WayPoint is open now to the public, with a public beach, playground equipment, and of course the Acid Ball…which lights up from below at night!
This park is already starting to see more activity. But the real game changer will be when the Granary building (that has been in the process of redevelopment at the foot of the park), opens up officially. Right now they are in the process of leasing, and it sounds like there will be at least one restaurant, a yoga studio, plus retailers at this site.
Next will be developments of condominiums in this area as well. This will bring even more life to this new downtown waterfront area (and a buying opportunity, as there has been a real demand for "view" condominiums in Bellingham and Fairhaven, and real lack of supply).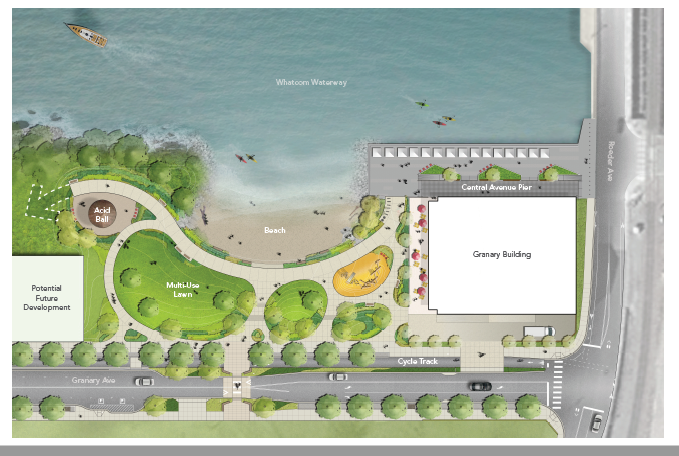 This is an absolute positive for all of Bellingham Real Estate in the long run, but gives a specific boost to the downtown, WWU, Lettered Streets and York neighborhoods. As all of these residence are within a short walk of these new incredible amenities.
On the north side of town, the Cordata Park is about to start construction as well. This is a 20 acre park with playground equipment, trails, bike racks, a picnic shelter and more.
The Cordata neighborhood has been the fastest growing neighborhood in Bellingham, and adding a huge park is going to be a huge boost! The neighborhood already includes ample amenities, but has lacked park and open space compared to the south side of town. And with all of the new development and increase in population in this area, this park will be VERY busy on sunny days!